Sir Walter DNA Certified Premium Turf
Suitable For Full Sun Areas
Broad Leaf Diameter
High Wear-Tolerance
High Drought Resistance
High Shade-Lolerance
10-Year Product Warranty

Sir Walter turf is a gorgeous grass, born and bred under our Australian sun. And, with unmatched performance in Australian conditions, Sir Walter buffalo lawn is the best grass for shade. As well as this, Sir Walter buffalo lawn has excellent drought tolerance and is winter active. Consequently, your Sir Walter lawn's attractive, crisp green will stay for longer as we head into the chilly winter months. Other varieties of grass may gain a purple tinge to their leaf, but Sir Walter turf maintains its green through winter. Sir Walter is a superior quality, soft leaf buffalo grass, perfect for the Australian home.
Maintenance:
With proper care, a Sir Walter buffalo lawn will remain healthy and stay green throughout the year. To achieve this, you should fertilise your Sir Walter lawn in autumn and be sure not to mow too low before winter. However, for your Sir Walter turf in shaded areas, you should keep your lawn at a taller height so the longer leaf can compensate for the lack of sunlight. Additionally, watering less frequently in these areas will help to prevent them from becoming damp and sodden. Except for these shaded areas, you should mow your Sir Walter buffalo lawn low in spring to remove any thatch build up and allow for new stolon growth. This has the same effect as topdressing but is much easier and will allow you to keep your existing lawn height. A healthy and thriving Sir Walter lawn will look brilliant throughout the year as well as being able to outcompete most weeds. Because Sir Walter lawns are so suited to our Australian environment, it is a superb choice for your home and for parks and sportsgrounds.
[ninja_form id=3]
How do you know It's Genuine Sir Walter?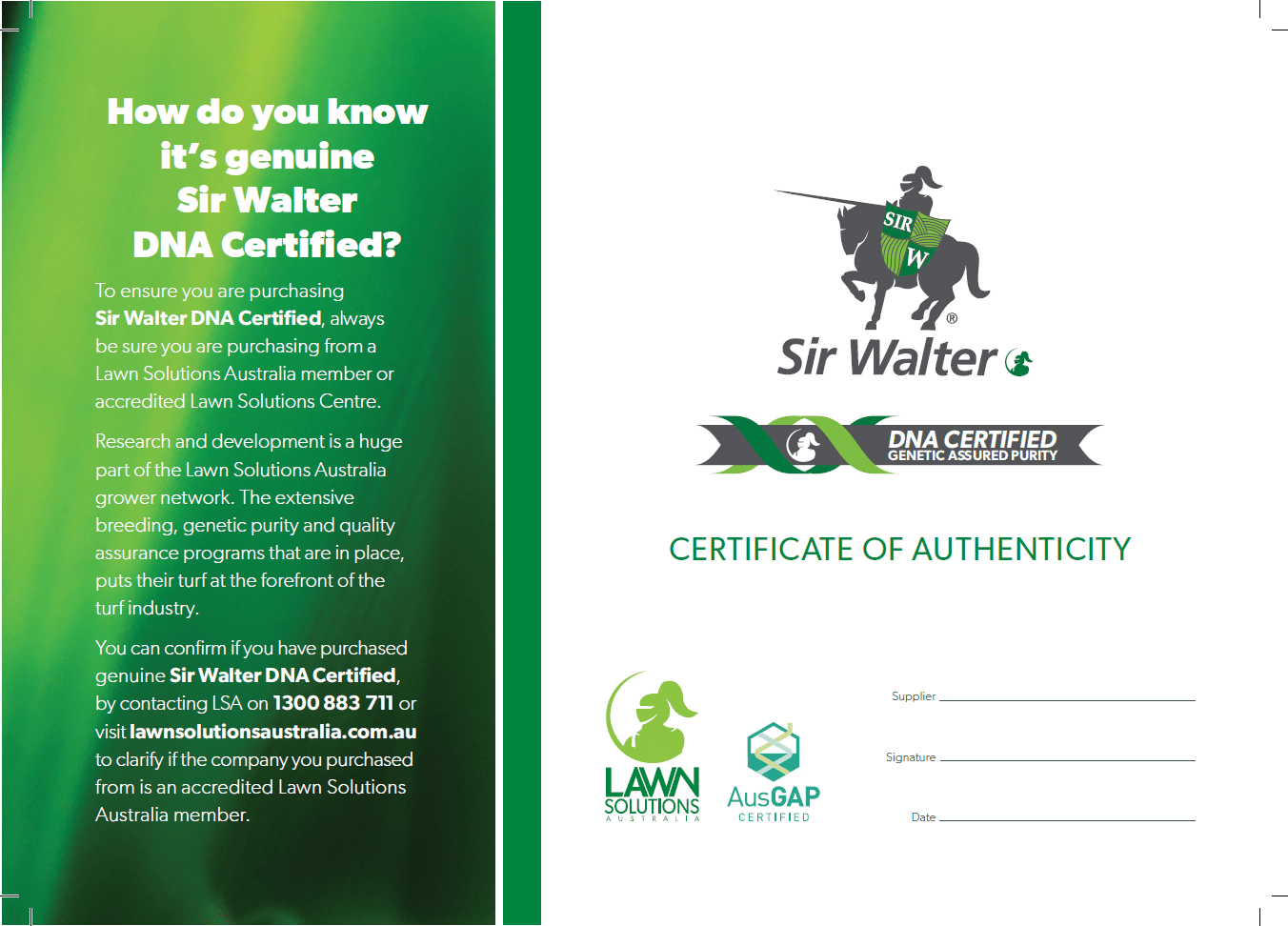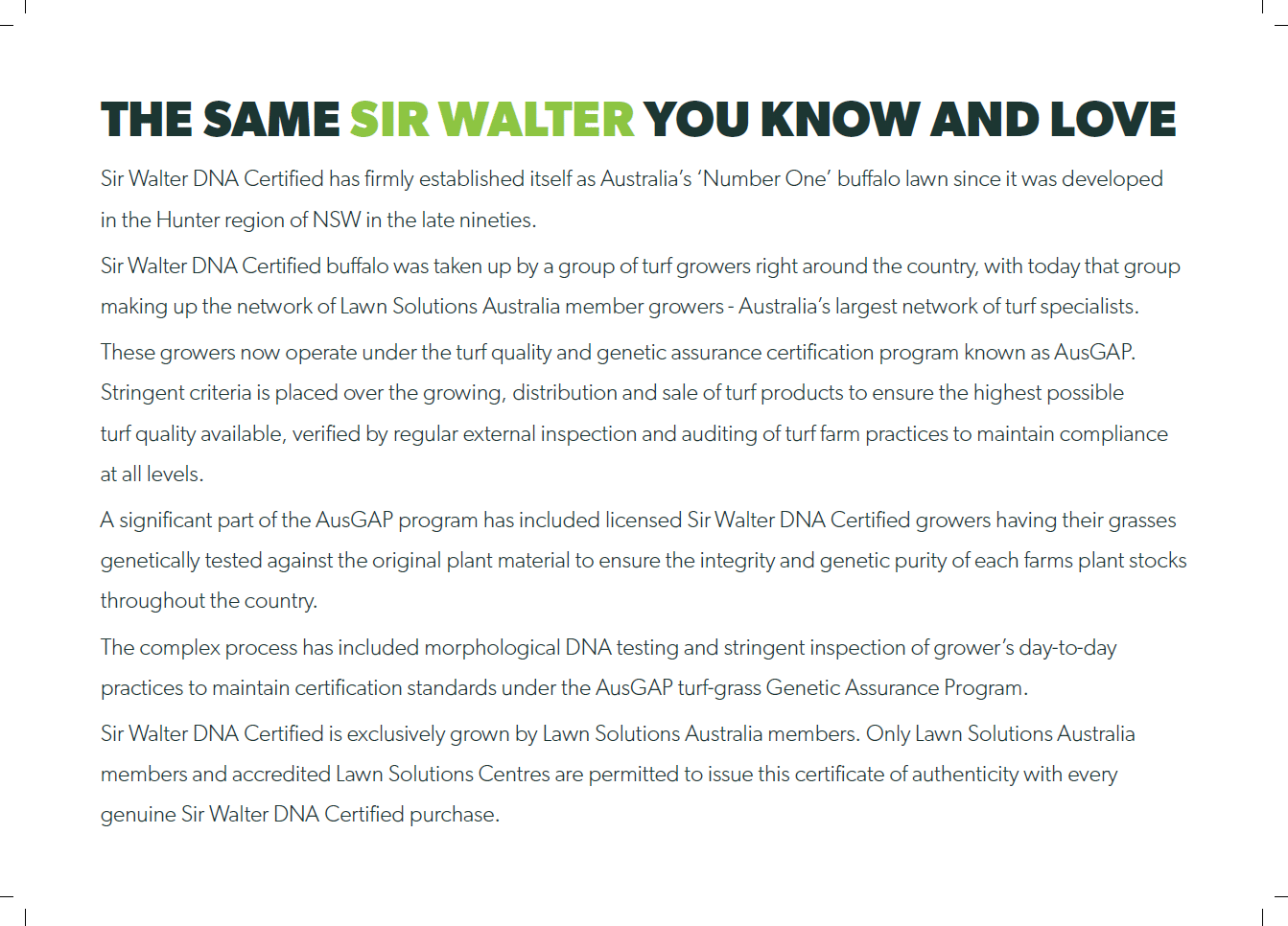 Compare Lawns
| | Sir Walter Turf | Sir Grange Zoysia | Eureka Kikuyu Turf | Nullarbor Couch Turf |
| --- | --- | --- | --- | --- |
| Winter colour | Excellent if well fertilised | Very Good if well fertilised | Very Good if well fertilised | Average if well fertilised |
| Shade Tolerance | Excellent | Excellent | Poor | Very Poor |
| Drought Tolerance | Good | Excellent | Good | Very Good |
| Leaf Texture | Broad | Fine | Broad | Fine |
| Wear Resistance | Very Good | Excellent | Good | Excellent |
| Recovery from Injury | Very Good | Very Good | Very Good | Excellent |
| Fertilising Requirement | Beginning of each season | Low fertiliser requirement. Does not need a lot to stay healthy | Beginning of each season | Beginning of each season |
| Weed Resistance | Excellent | Excellent | Good | Good |
| Disease Resistance | Excellent | Very Good | Good | Good |
| Insect Resistance | Very Good | Excellent | Poor | Average |
| Heat Resistance | Very Good | Excellent | Good | Excellent |
| Salt Tolerance | Very Good | Excellent | Poor | Excellent |
| Mowing Requirement | Weekly | Low frequency of mowing. Grows slowly | At least Weekly. More often when fertilised | Twice Weekly |
| Mowing Height | 20 - 25mm | Wide range of mowing height options | 20 - 25mm | 15 mm |
| Uses | Home Lawns, Commercial, Parks, Pre-schools | Home Lawns, Commercial, Parks, Golf Courses, Sports Fields, School Play areas, Roadside Green Space | Home Lawns, Commercial, Parks, Golf Courses, Sports Fields | Home Lawns, Commercial, Parks, Golf Courses, Sports Fields |