HydroForce Extend – 20 litres
Highest quality, 100% Block Co-Polymer Surfactant Formulation.
Excellent Residual Performance.
Non burn formulation, minimal interaction with the plant's cuticle.
Maximises molecule output and performance.
Reduces irrigation requirements by increasing the rate and depth of water penetration.
Manufactured and developed in Australia for the harshest of climatic conditions.

HydroForce Extend Wetting Agent - 20 litres
Keep your turf lush year-round with HydroForce Extend!
This organic surfactant is specially formulated to prevent dry spots in both sandy and finer textured soils, making it an ideal solution for all types of lawn care.
It's also warm and cool season safe – a truly versatile product that will keep your grass looking great no matter the time of year.
Features
• Formulated with highest quality, 100% Block Co-Polymer Surfactant for excellent residual performance.
• Non burn formula with minimal interference with the plant's cuticle.
• 100% concentration of surfactant for maximised molecule output and performance.
• Increases water penetration rate and depth to reduce irrigation requirements.
• Flexible application rate suitable for varying intensities of use.
• Developed in Australia to withstand harshest climatic conditions.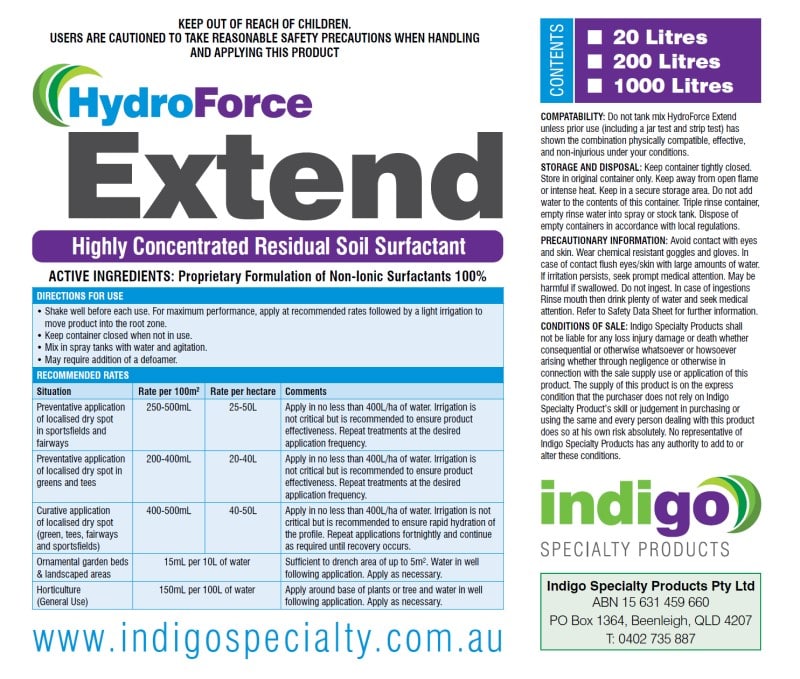 Directions for Use
• Shake well before each use. For maximum performance, apply at recommended rates followed by a light irrigation to move product into the root zone.
• Keep container closed when not in use.
• Mix in spray tanks with water and agitation.
• May require addition of a defoamer.

Download Product Information