Lawn Solutions Australia's industry-leading turf growers and Lawn Solutions Centres offer homeowners a unique, 10 Year Lawn Warranty – the only of its kind in Australia.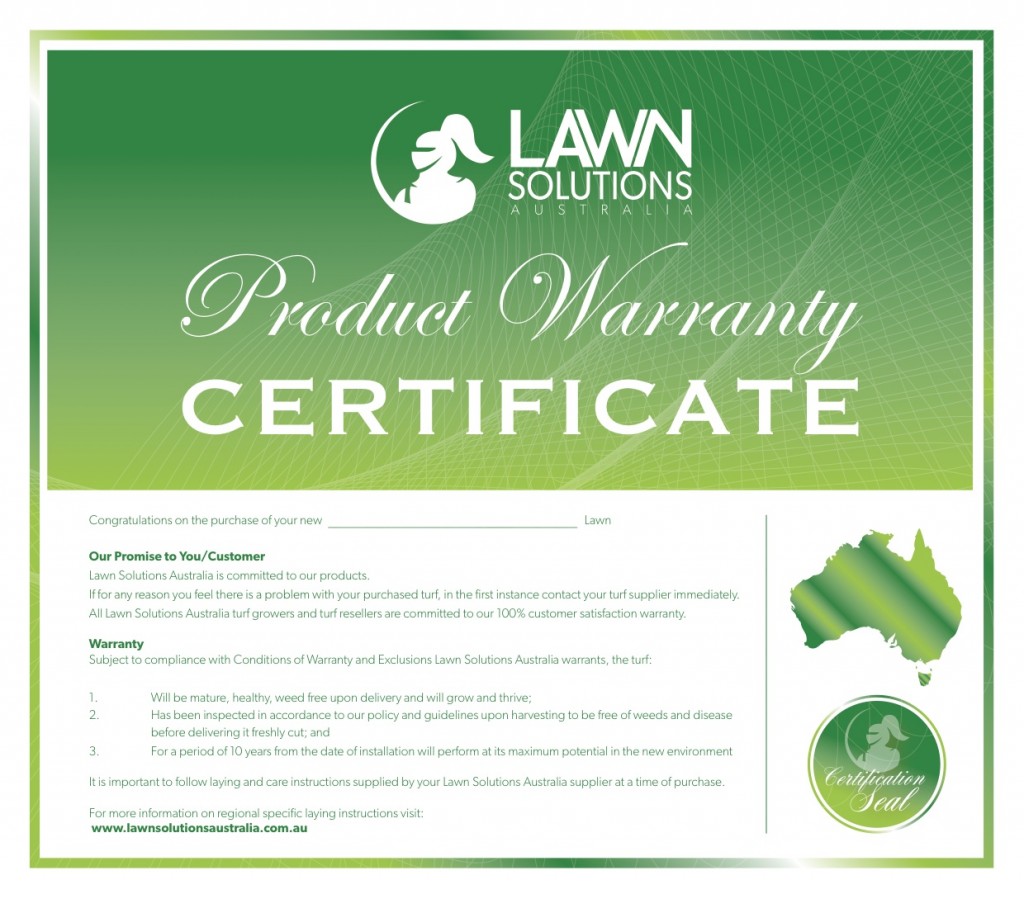 Lawn Solutions Australia – 10 Year Product Warranty Certificate.
Image supplied by Lawn Solutions Australia
About Lawn Solutions Australia
Lawn Solutions Australia is a hand-picked group of Australia's leading turf growers, some of whom have been in the industry for 40 years or more. All are growers of Australia's favourite lawn – Sir Walter soft-leaf buffalo, and are promising the same 'gold standard' of quality across their whole range of turf brands and lawn care products.
What does the 10 Year Lawn Warranty cover?
The warranty certifies that turf supplied by a Lawn Solutions Australia member has been grown and harvested to stringent standards, is free of weeds and disease on delivery, and will perform to its maximum potential in its new environment (subject to conditions).
What to do if you have a problem with your lawn
If for any reason you feel there is a problem with your purchased turf, in the first instance contact your turf provider immediately. All Lawn Solutions Australia turf growers and turf resellers are committed to our 100% product warranty.
"10 Year Lawn Warranty – the only of its kind in Australia."
Quick LinksBenefits of Sir Walter Buffalo Grass for pets Keeping dogs safe with a Sir Walter lawn Keeping Pets Safe in Your Yard Why you should avoid artificial grass How to Maintain a Healthy Lawn With Pets Natural lawn solutions Using dog rocks to prevent urine...
read more