Artificial Grass vs Real Grass
Artificial Grass vs Real Grass
When choosing between artificial grass and real grass, it's important to consider the pros and cons of each as well as which will best to suit your unique circumstances.
Artificial grass, or synthetic turf, has often been promoted as a low-maintenance alternative to natural turfgrass.
While in some circumstances it can certainly be more convenient, fake grass isn't as eco-friendly as a real lawn and often has a higher cost of ownership.
We've collated both the benefits and detriments of each type of lawn coverings so you can consider which will be best for you.
Artificial grass is typically made of materials plastics and recycled rubber.
The 'grass blades' will consist of a mixture of polyethene, polyester, polypropylene and nylon, whereas the base is usually made of sand and crumb rubber (typically from recycled tyres).
Holding all of this together is a mixture of padding materials coated in chemicals such as polyurethane or latex.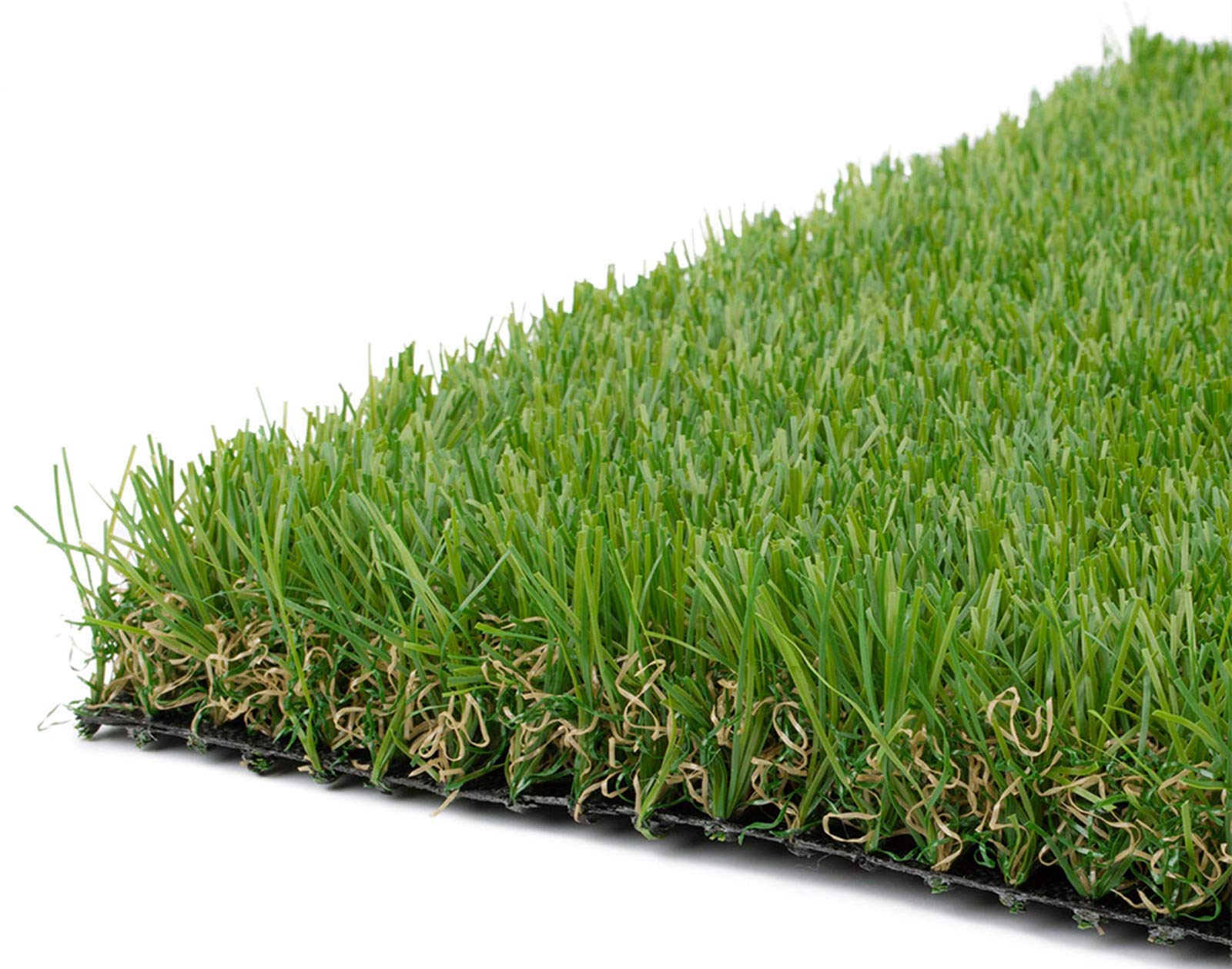 Also known as synthetic grass or fake grass, an artificial lawn is often likened to a plastic rug.
It can be a convenient alternative to natural grass and when properly maintained, can last up to 10 years.
However, it isn't suitable for all environments, especially in Summer.
Here is the definitive list of pros and cons for artificial grass.
As we've mentioned, the benefits of artificial grass mostly come down to how convenient it can be.
Synthetic grass can be installed just about anywhere, even on the balcony of a small apartment.
This is means that where you may be unable to maintain a natural grass lawn, artificial grass will still be able to add a touch of green to your home environment.
You also don't need a mower, weed killer or fertiliser to maintain artificial turf. This is especially useful when you have limited storage space for equipment such a mower.
All you'll need is typical cleaning equipment you would use in the kitchen or bathroom and potentially a rake.
Finally, a well-maintained artificial turf will always keep its look and feel.
As it isn't growing, you can count on artificial turf to remain the same length and to stay the same colour all year round, no matter the weather conditions.
While artificial grass can be a good alternative for spaces where you can't easily maintain a lawn, for larger outdoor areas, it can be quite troublesome.
Most importantly for the Australian climate, artificial turf can get incredibly hot in the sun.
As it is made from synthetic materials, such as rubber, artificial turf can get hotter than pavement in full sunlight.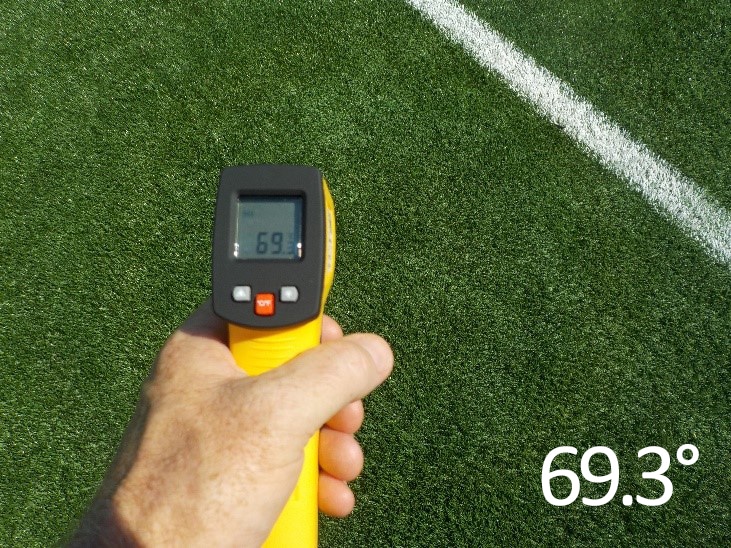 This means that if your fake grass is exposed to sunlight, you'd need to water it before using it in the Summer.
As well as being a colossal waste of water, it also makes artificial grass unsuitable for children and pets during warmer months.
Another element of maintenance that isn't commonly discussed for artificial grass is the cleaning it will require.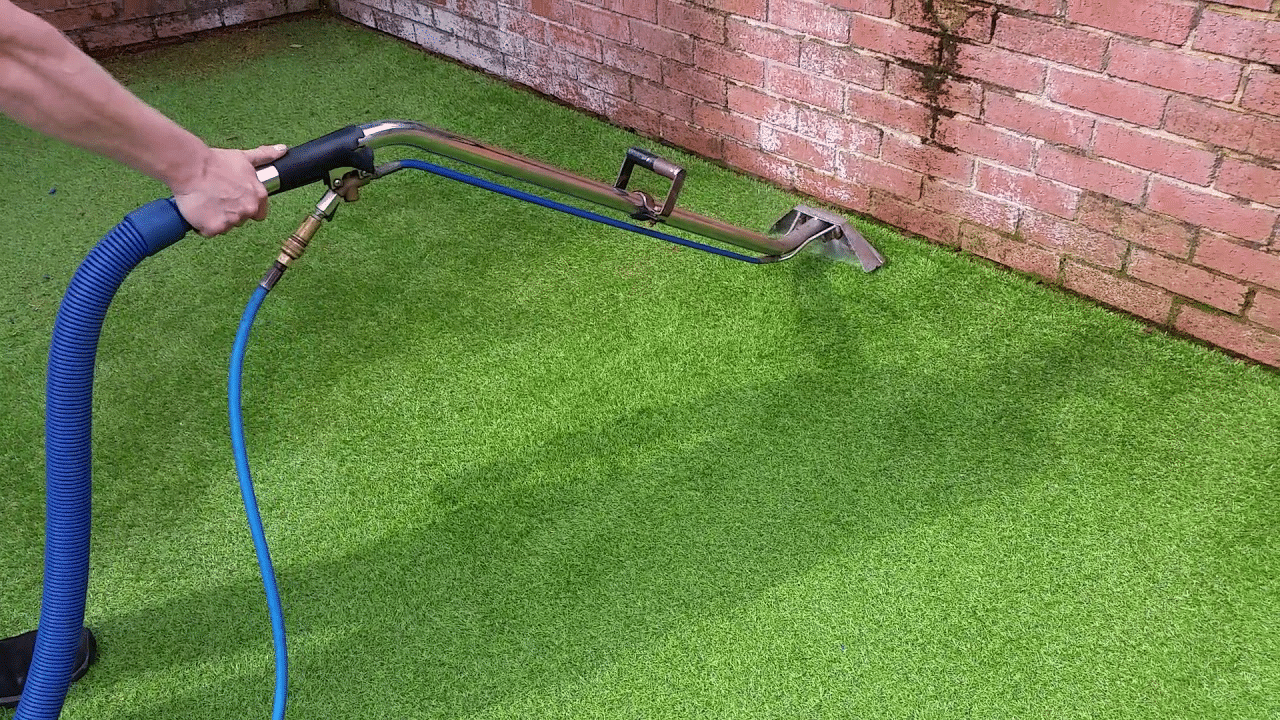 Similarly to a normal rug, artificial grass will collect any pet or human hair as well as any spilt food and drink, bird dropping or sweat.
Dust also tends to accumulate in artificial turf – making unclean fake grass a nightmare for people with hayfever.
To clean an artificial lawn, you'll need a rake to remove the hair and the artificial grass will need washing down regularly.
Tougher stains, such as blood and saliva, may require some bleach or strong chemicals to clean them away.
However, by properly maintaining an artificial lawn, you'll be able to stretch its lifespan from 5 years to put to 10 years.
After this, artificial turf will need to go to landfill and the manufacturing process of new artificial turf will have a significant carbon footprint.
As well as the toll on the environment, a square metre of good quality synthetic grass costs over $30 and up to $50 if a professional is installing artificial grass for you.
Green grass has been a fixture in the Australian dream for generation after generation.
While grassed lawns were once reserved only for the European dukes or wealthy English, a healthy green lawn is now a staple for every Australian home.
Especially more recently as studies have shown the positive impact a healthy lawn can have on hot summer days and in the middle of urban environments.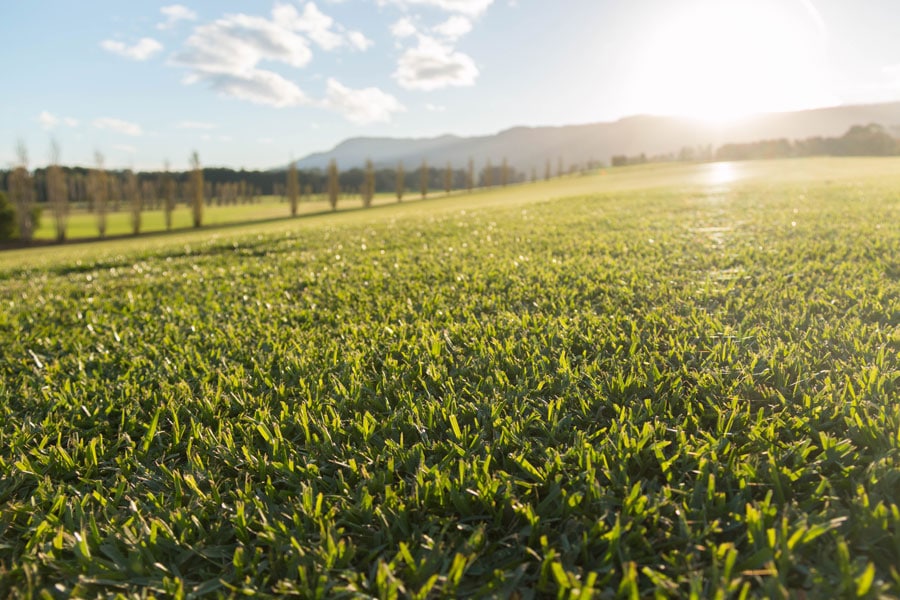 In the past, natural turf has received a bad wrap for water use and the need for regular maintenance.
But, once you consider the benefits natural lawn can have for individual wellbeing, pets and the surrounding environment, natural grass could be a worthwhile investment for you.
Here is our conclusive list of pros and cons for natural grass.
One of the key benefits of natural grass for families is that it provides kids and pets with a safe place to play.
Children are less likely to hurt themselves on a grass lawn in comparison to concrete, pavement or on an artificial lawn.
As real grass is also the coolest option on a hot day, you don't have to worry about burns on your pet's paws or child's feet while they play outside.
As well as being safe, lawns are naturally cooler in the heat and will even cool the surrounding area.
A healthy lawn can be therapeutic to relax on as the natural green environment has been psychologically proven to decrease anxiety and depression.
Natural turf grass is also self-cleaning. If you spill some sauce from your BBQ or your dog drools all over the grass, you don't have to worry about coming back to clean it up later. A healthy lawn will simply absorb it all over time.
Not only are grass lawns self-cleaning, but they're also self-repairing.
A natural lawn will be able to remain healthy despite foot traffic and when they have been particularly damaged, a little bit of TLC will encourage a natural grass lawn to fully recover.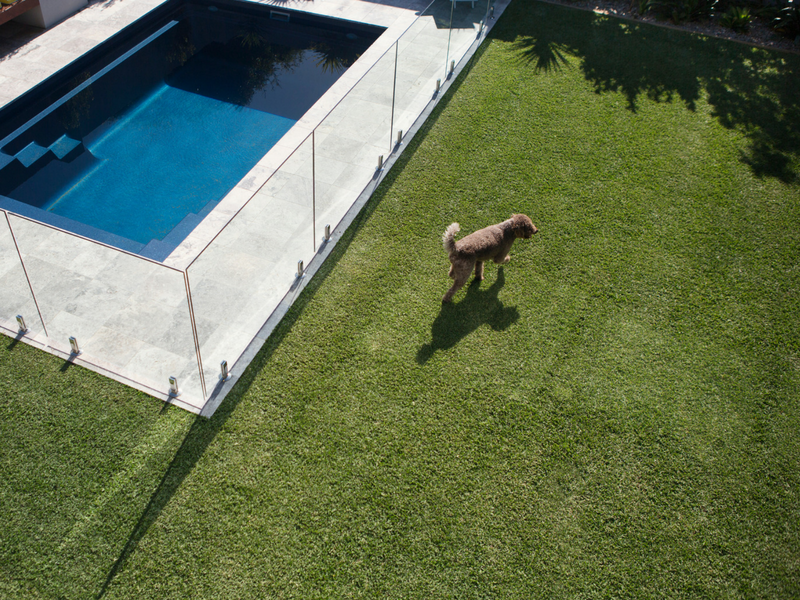 If you know you'll need a hardy, self-repairing natural lawn, you might consider Nullabor Couch or Sir Grange Zoysia grass variety.
If you're worried about hayfever and other allergies, specific varieties of natural turf have been proven to be non-allergenic.
DNA Certified Sir Walter turf, a non-allergenic grass variety, has also been shown to reduce pollen and dust in the surrounding area, easing the effects of hayfever.
Natural turf also has a particularly long lifespan, making it an eco-friendly choice.
For an LSA-certified turf variety, you can expect a maintained lawn to last well over 10 years.
We even offer a 10-year warranty for LSA-certified turf varieties. And, these varieties only cost between $7 to $25 dollars a square metre.
Real turf is not only a cost-saving and sustainable investment for your home, turf also adds value to your property.
A survey conducted by real estate agents found that a good-looking lawn can boost a property's value by 20%.
Some even thought that value increase was up to 30%.
The majority of participants also cited a natural turf lawn as the most popular surface for family buyers and natural turf improves the overall look and feel of a home.
In the past, there have been concerns about the amount of water used on natural grass lawns.
While a lawn may need more water during the warmer months, a drought-resistance variety of natural grass will help to alleviate these fears.
And, if you're still worried about using too much water with natural turf, you can set up a rain sensor with your sprinkler system.
This will ensure that you are only using water when your lawn needs it.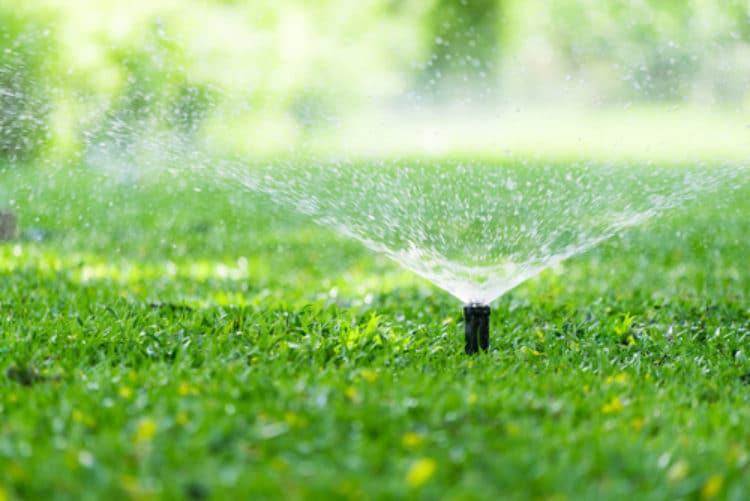 Another concern is that natural turf will require regular maintenance.
If you're worried about your lawn becoming yet another chore around the house, you can consider the benefits of regularly watering and mowing your lawn.
It has been found that the maintenance of natural grass is quite therapeutic.
By giving you a simple task, in a pleasant environment, your mind will have the opportunity to relax while also getting some exercise and fresh air.
Finally, you'll need to consider the cost of equipment and lawn care products. You'll need a mower to use every 2 weeks as well as fertiliser and weed killer.
While these may not seem like much, the cost adds up per square metre of natural lawn. While maintenance costs can be high, there are ways to be back yard savvy and save.
Weed control doesn't have to be weed killer, it can be mowing or hand weeding, and besides, a healthy lawn will outcompete most weeds anyway.
The type of lawn you'd like to relax or play on is a very personal and important decision.
Choosing between real grass vs artificial grass will affect your life for the next 5 years as well as the value of your property.
If you are looking to add some greenery to a space that is unsuitable for a natural lawn to grow, such as on a balcony, synthetic turf is the choice for you.
However, if you are looking to lay a lawn in your yard, we would recommend a natural turf.
Not only will you feel healthier and happier in the long run but you won't have to water it when you want to relax on a hot summer's day.
Ultimately, it's your choice what type of grass you choose.
However, if you'd like to know more about choosing and caring for a natural lawn, our lawn care articles can help.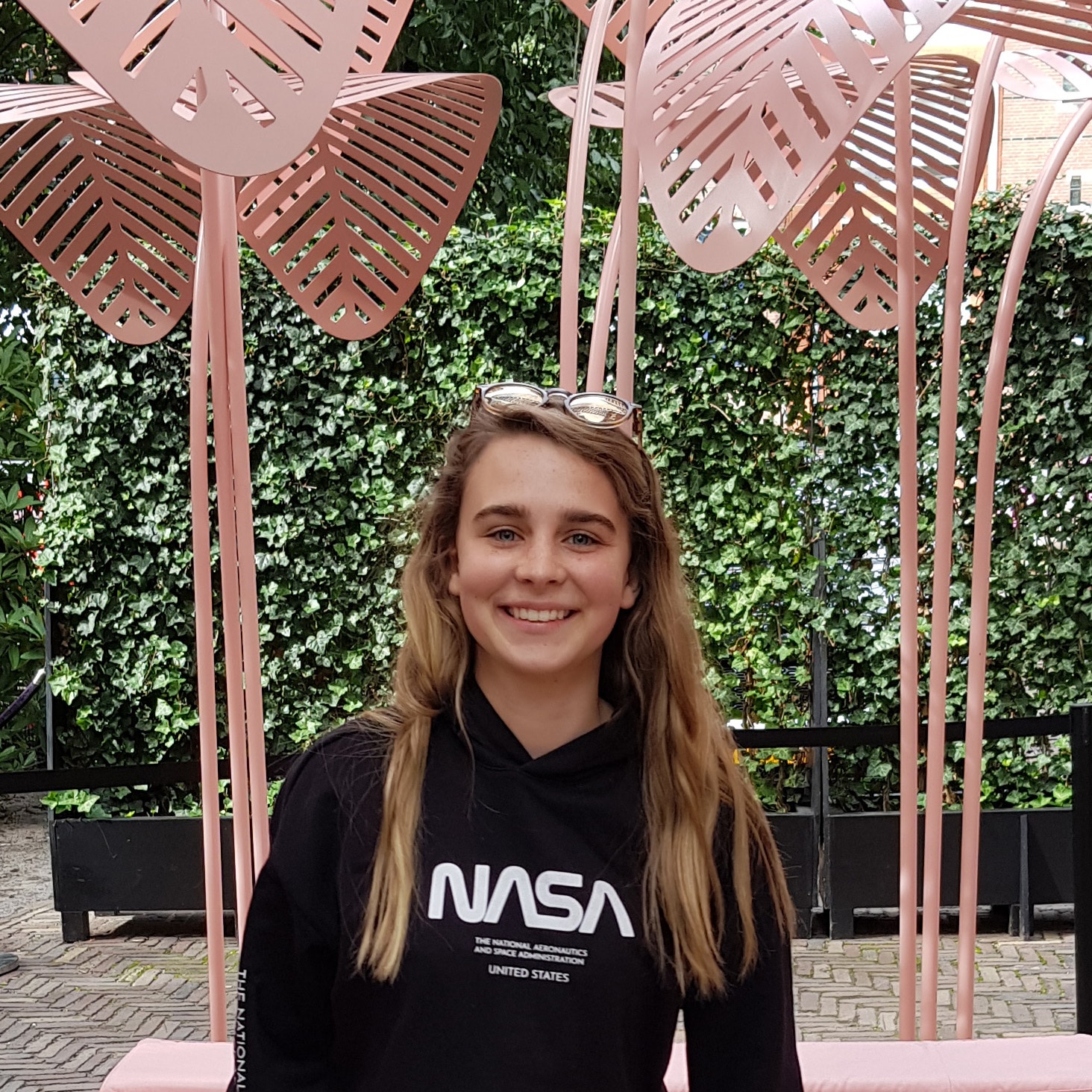 For the best lawn in your street, choose a quality liquid lawn fertiliser like Exceed. This excellent product will provide a much quicker response from your grass than a granular form of fertiliser. The nutrients are almost immediately available when absorbed through the roots or leaves rather than through the soil.
read more