The Curse of the Argentinian Scarab
The Argentinian Scarab is extremely similar to the African Black Beetle. The most obvious difference, however, is the colouring of the scarab. The Argentinian Scarab is a tan colour with subtle striping along the hard, outer shell.  The larvae are creamy coloured, soft bodied curl grubs that grow up to 25mm long.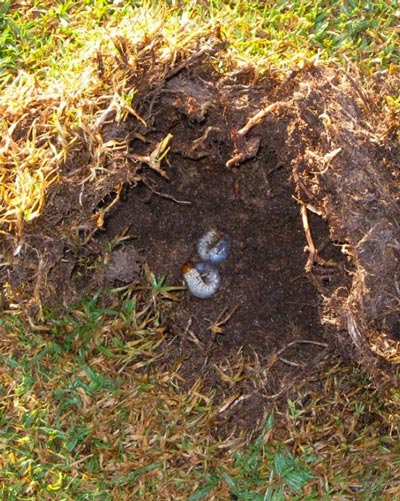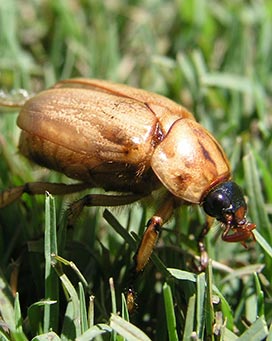 The main problem with the Argentinian Scarab is the damage it causes in large numbers. Throughout its lifecycle, this scarab eats through grass roots as an adult and as larvae.
The damage they create to the grass roots reduces moisture retention and appears, to an onlooker, as drought damage. With enough scarabs, damage can create dead lawn patches which can be peeled back to reveal the pests.
An adult Argentinian Scarab will lay eggs at the end of December or beginning of January. After 2-4 weeks, these will hatch, and the larvae will spend the next 4-5 months just below the thatch layer in your lawn. Once it becomes cooler in May or June, they will then move underground and reappear as adults at the end of spring.
If you've noticed your lawn appears to have drought damage even though you've watered it consistently and we are now out of the heat of summer, it might be worth treating it for pests such as the Argentinian Scarab.
The best treatment is using a Lawn Grub and Beetle Killer. The grubs or beetles need to be active when you apply the pesticide so you can act before they disappear for winter or mark it in your calendar for early summer.
Dry, summer days encourage grubs to grow and eat more. With our blistering summers, it's important to treat your lawn before the Argentinian Scarab can become a plague.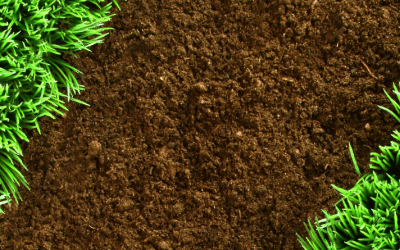 Whilst fertilising your lawn may seem easy, there are still some common mistakes that can become detrimental to your lawn care.
read more